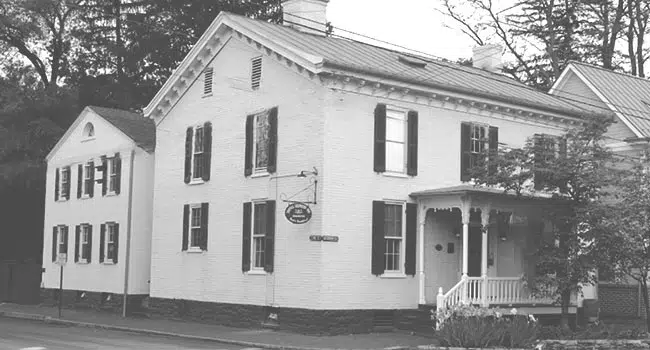 Shepherdstown WV history of the Thomas Shepherd Inn began when it was built in 1868. The building served as St. Peter's Lutheran Church parsonage for nearly 70 years. In 1936 husband and wife, Drs. Halvard Wanger and Sarah Elizabeth McFetridge purchased it for their home. Halvard and Sarah added the Duke Street addition for use as their doctors' offices. A plaque with their names on the exterior of the building on Duke Street, and Dr. McFetridge's wooden plaque in the guest-room floor hallway, serve as reminders of their time here. Unfortunately, we have not been able to locate Dr. Wanger's infamous "beige hat", which we have read about in several narratives about the Inn. If anyone knows its current whereabouts, please contact us!
Thomas Shepherd Inn was established in 1984 by residents, Ed and Carol Ringoot, and has served the historic district of Shepherdstown with hospitable accommodations ever since. When the Ringoots set out to name the Inn, they went to descendants of Thomas Shepherd, Shepherdstown's original founder, to obtain their blessing to name the Inn after him. The entire area has a long and interesting history including, of course, Shepherdstown's importance during the Civil War, and Antietam National Battlefield located just 4 miles away. Today, Shepherdstown is home to the Contemporary American Theater Festival, CATF, named as one of the top theater festivals in the world. Each summer the Festival produces six new plays in rotating repertory.
A testament to how wonderful Shepherdstown is, and how fondly they feel towards the Inn, almost all the previous owners still reside in this area.
Welcome to our charming and historic town, and the Thomas Shepherd Inn!