Sleep Soundly in our Historic Shepherdstown WV Lodging
We look forward to providing our guests the best in Shepherdstown WV lodging. Most of our guest rooms have been freshly painted, and each of the guest bathrooms have undergone minor to major updating. Each room features a private bathroom with amenities including soap, body wash, shampoo/conditioner, make-up remover, tissues, shower caps, blow dryer, soft bathmats and thick towels. In addition, our bedsheets are COMPHY brand, ensuring ultimate comfort for your night's sleep, and luxuriously soft bathrobes are provided for your stay. Bottled water will be provided daily in all rooms, and refreshments are available throughout the day in the dining parlor and upstairs library. In the interest of our guests who opted to stay at the Thomas Shepherd Inn for peace and quiet, we do not have tv sets in the rooms. However, we do have free Wi-Fi throughout the Inn. A daily breakfast is also included in your stay. Begin your journey, book today!
Explore our Shepherdtown WV Lodging:
Room One
This two-windowed corner suite basks in natural light, and features a four-poster king canopy bed, a sitting area, and an electric insert in the original fireplace. It is the only guest suite with a closet instead of an armoire, as this was the original bedroom to the house. The large ensuite bathroom contains a window and has just undergone renovation, making it more attractive and convenient for guests. Views of historic German Street and the steeple of Trinity Episcopal Church, established in 1739, can be seen from the windows of this romantic room.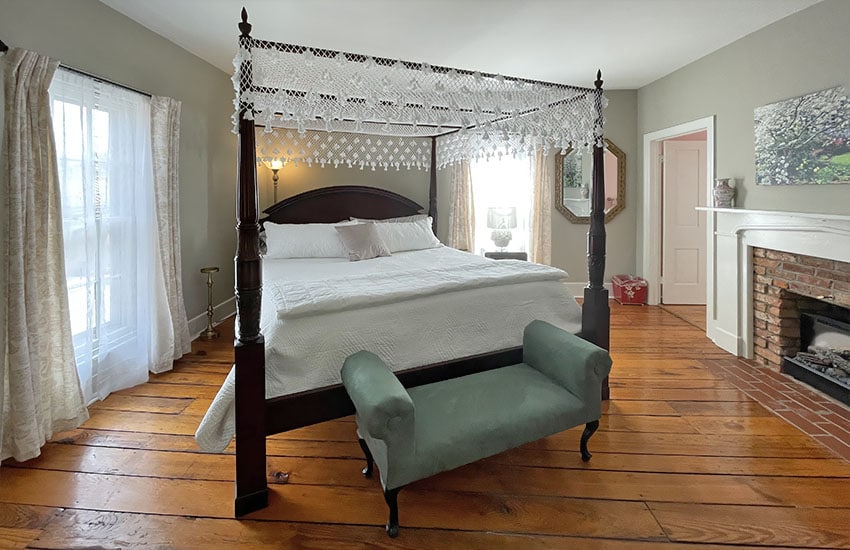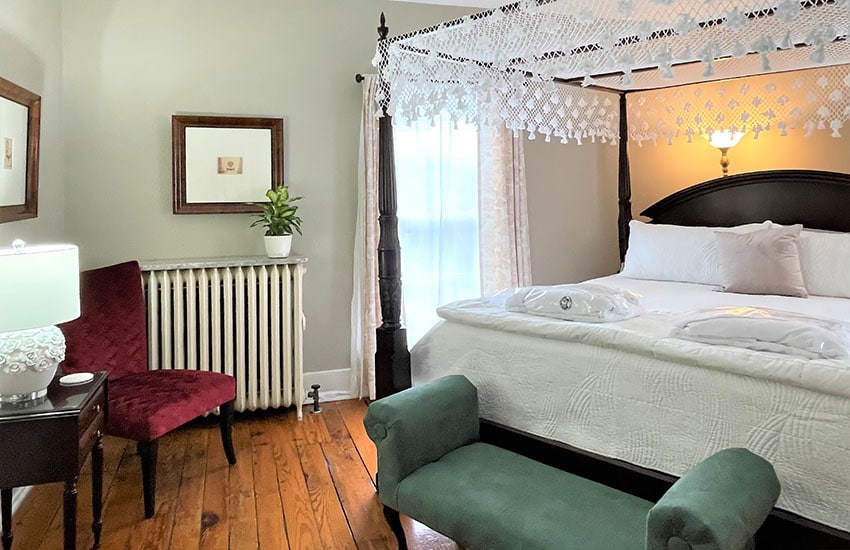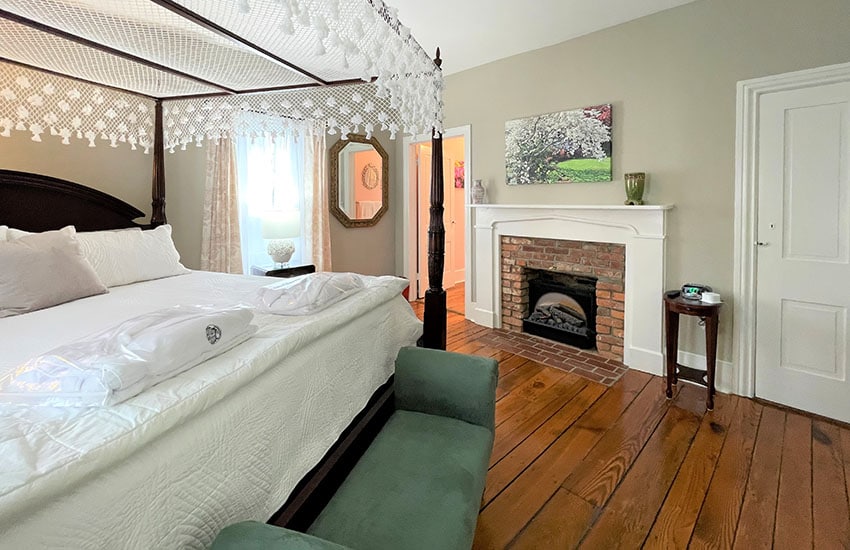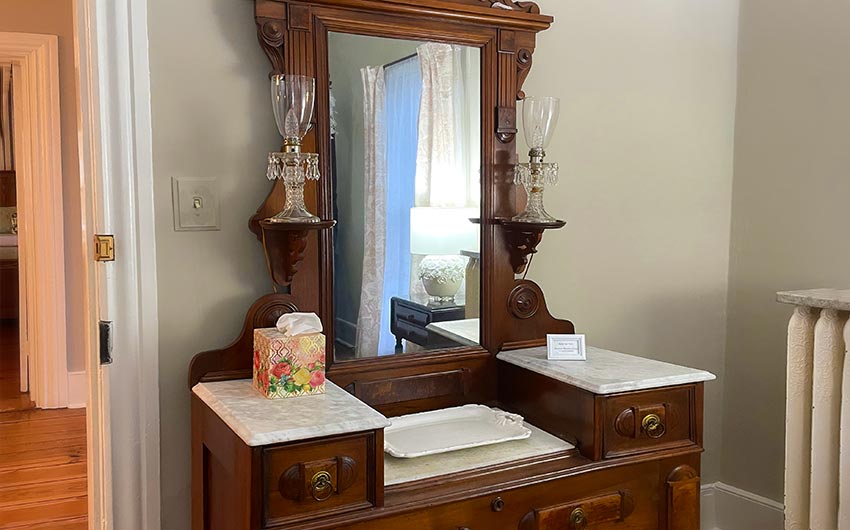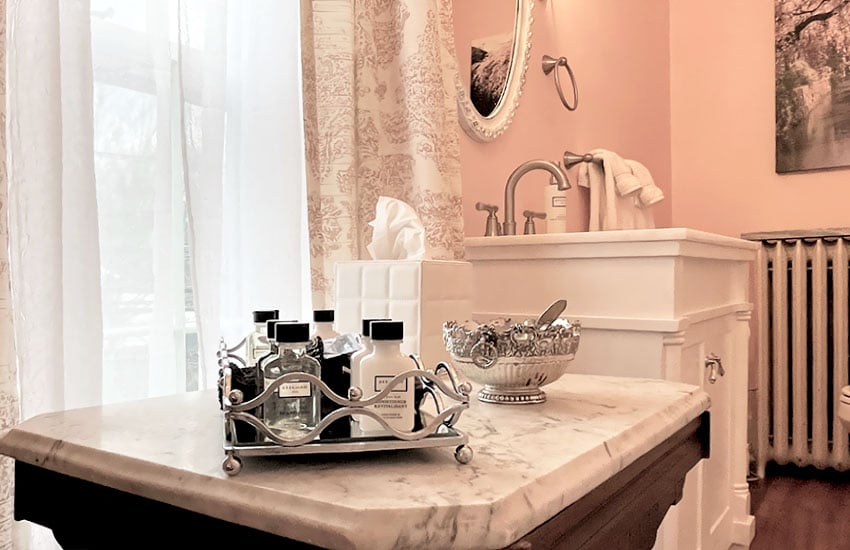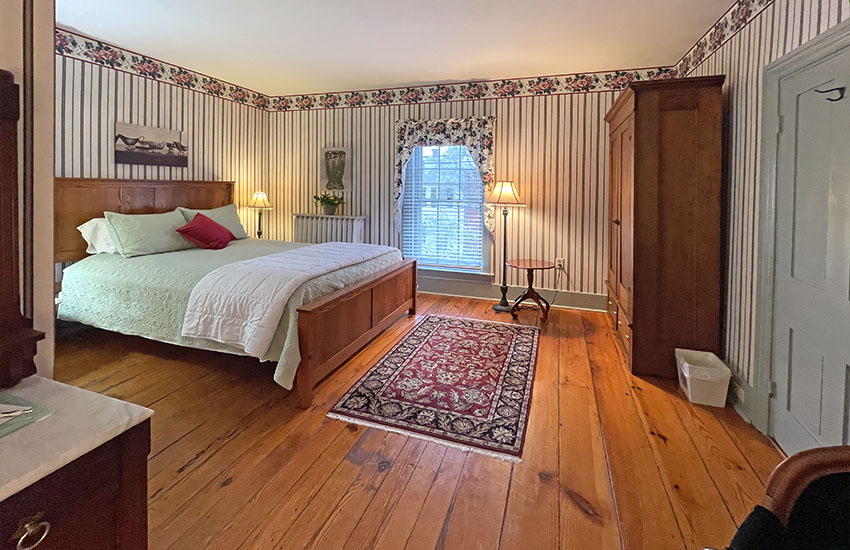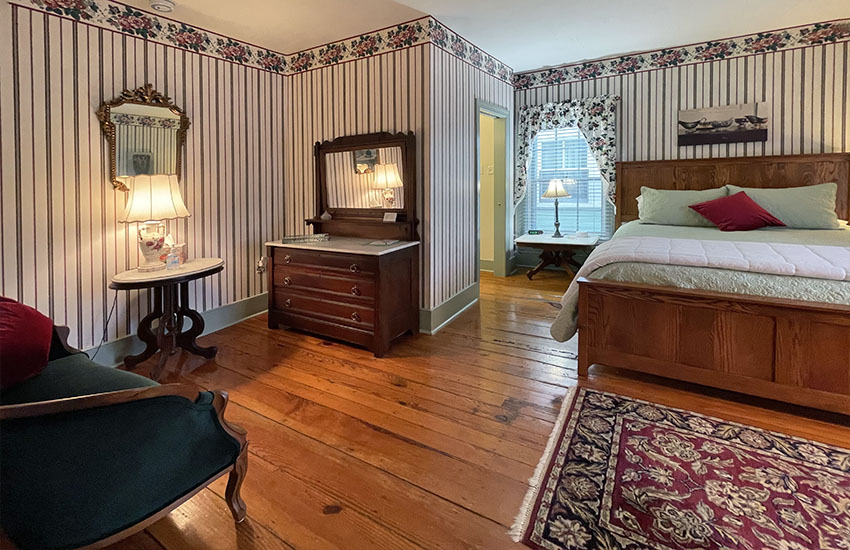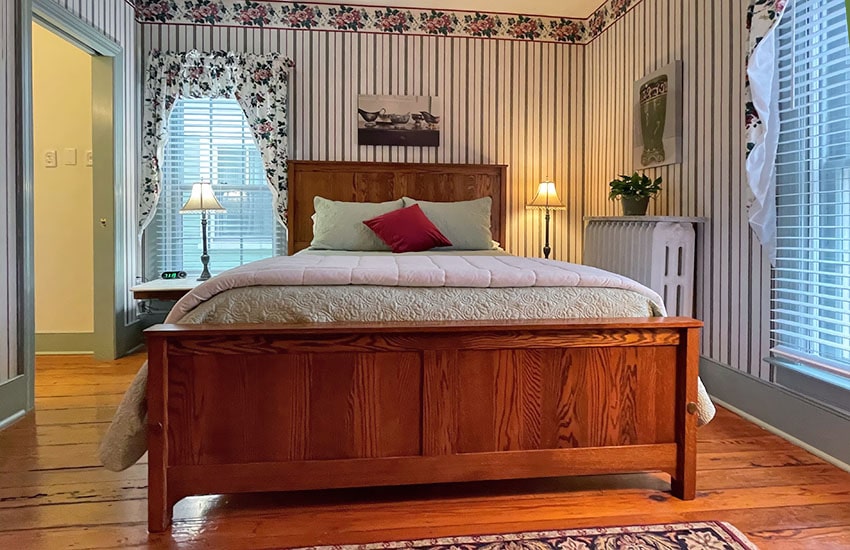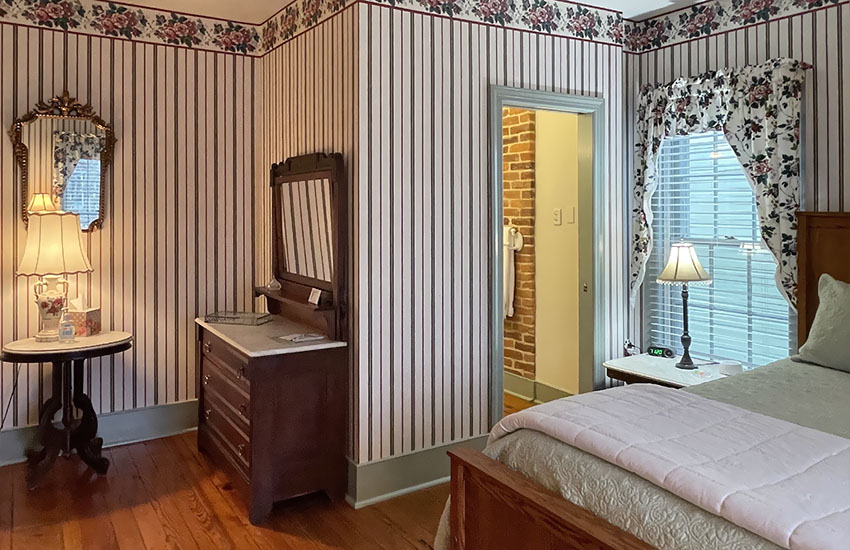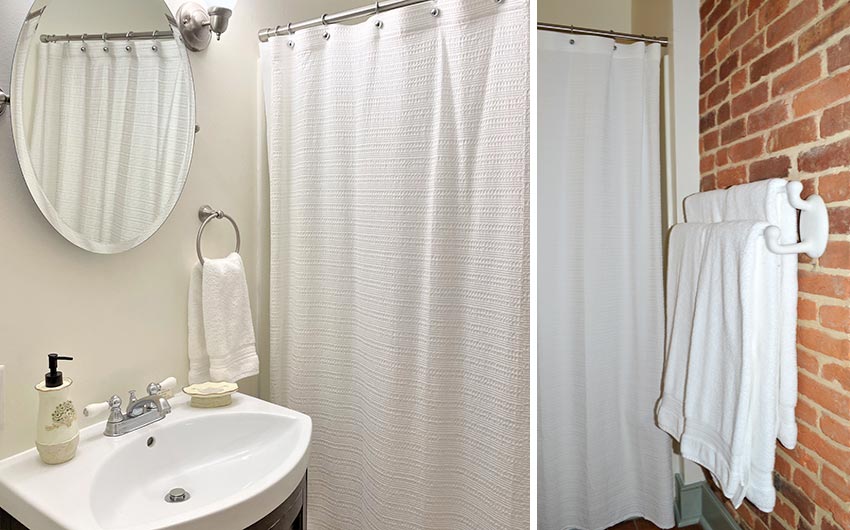 Room Two
Our popular, two-windowed, corner "Rose" of a room has beautiful vintage wallpaper, a super comfortable queen bed, a large armoire, and a lovely sitting area. The ensuite bathroom with a tub/shower combination, features an original brick wall, adding even more character and originality to this often-requested suite.
Room Three
Away from the traffic sides of the Inn, and often requested by bicyclists from the C&O Towpath, this room contains twin XL beds, a desk, a settee and a large, mirrored armoire. The large, private bathroom, with oversize walk-in shower, is located directly across the hall and has just undergone complete renovation, including new flooring, vanity, lighting and fixtures.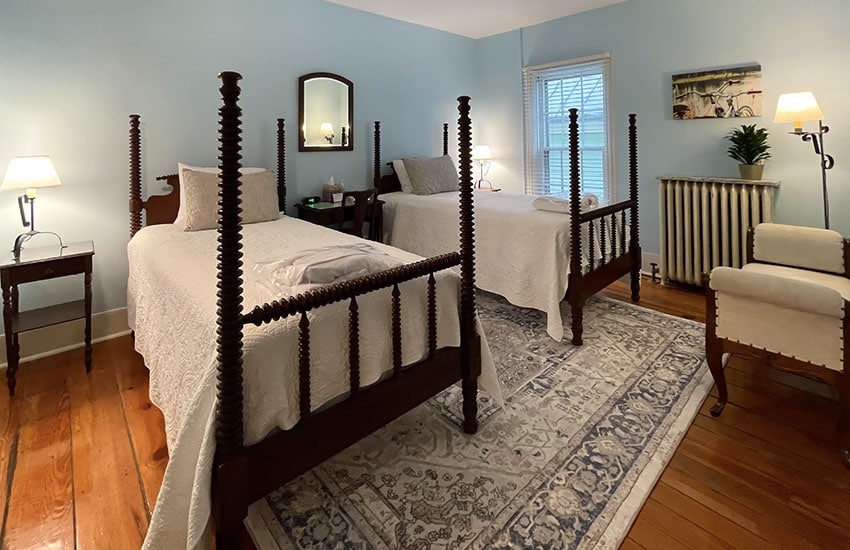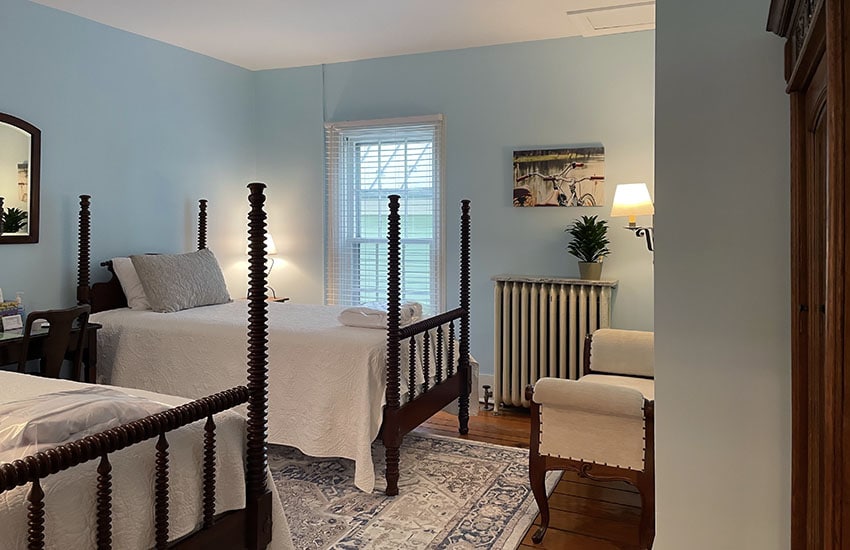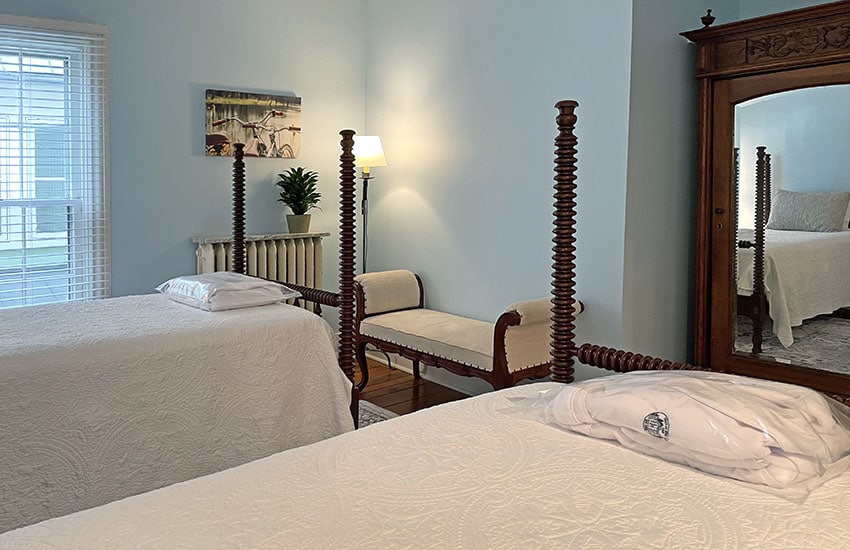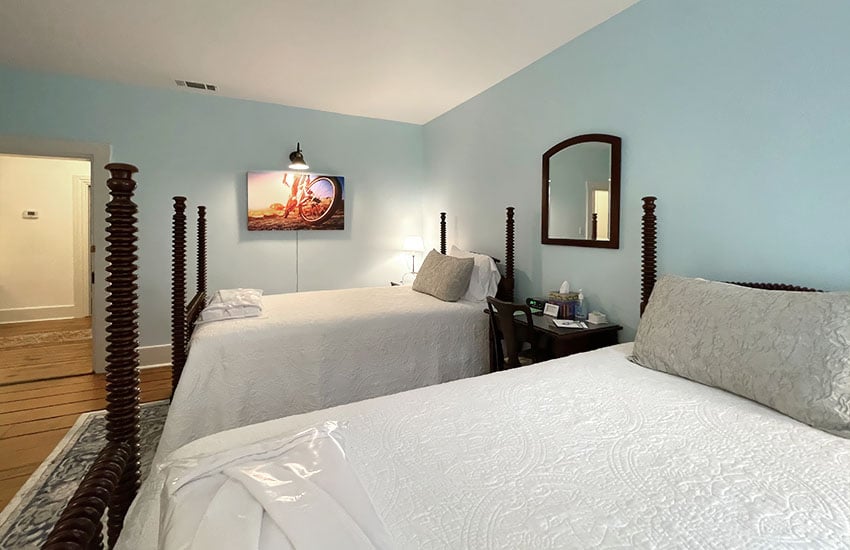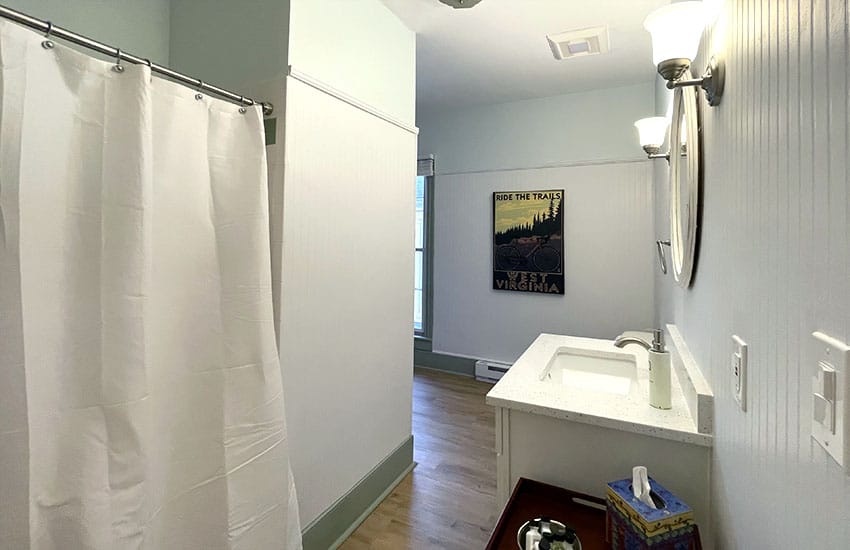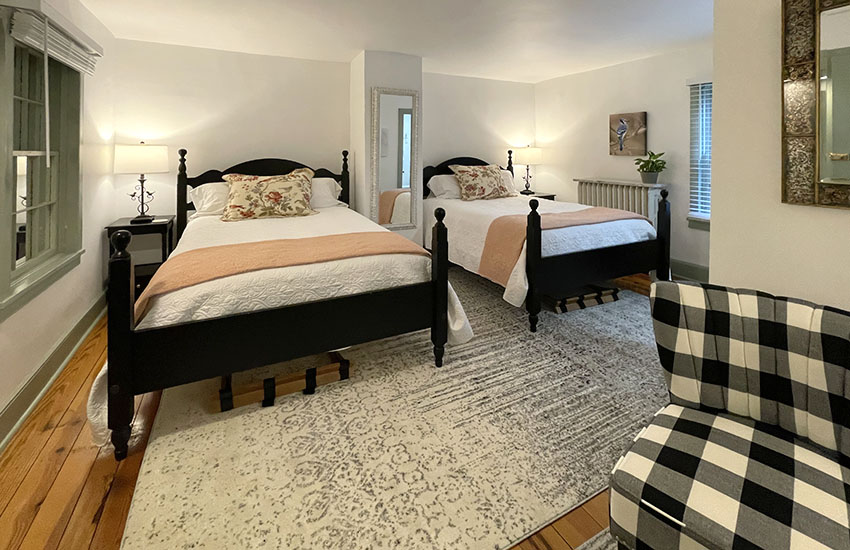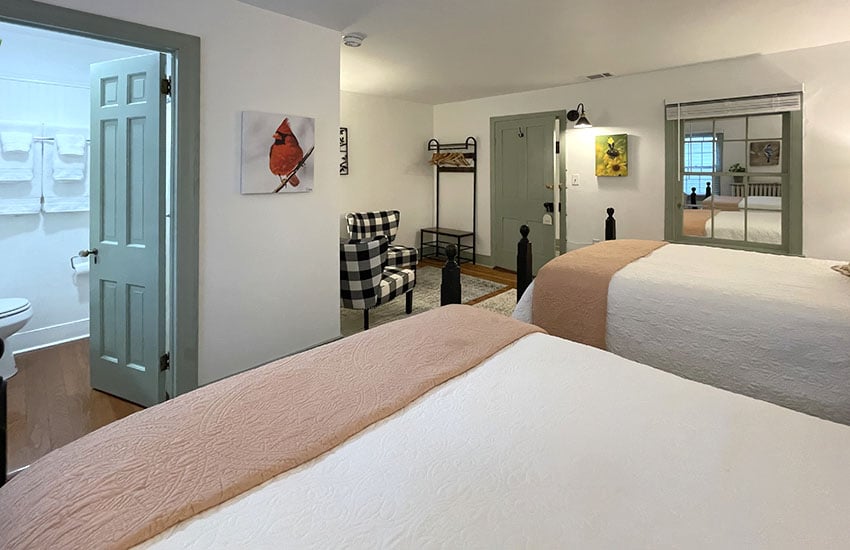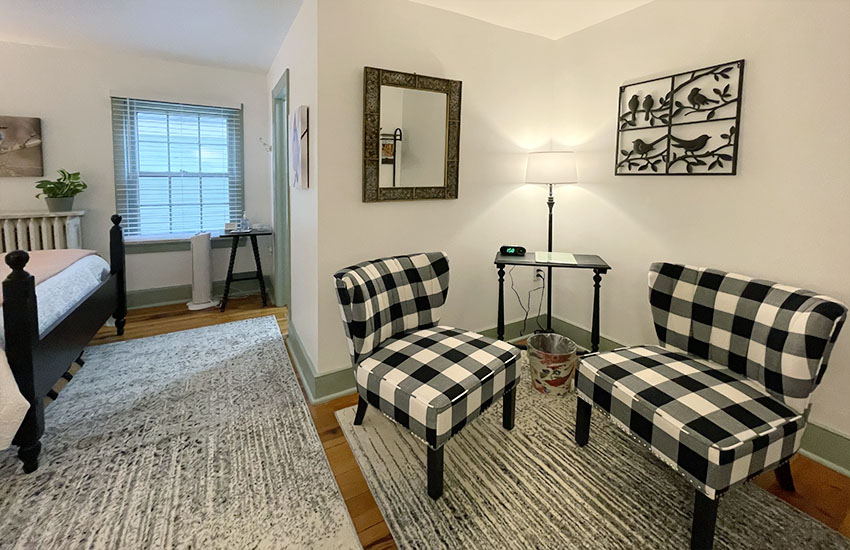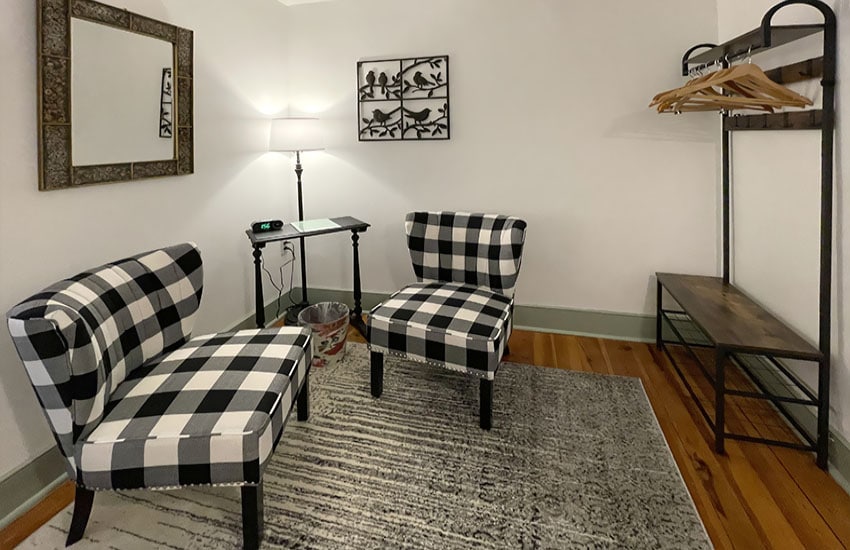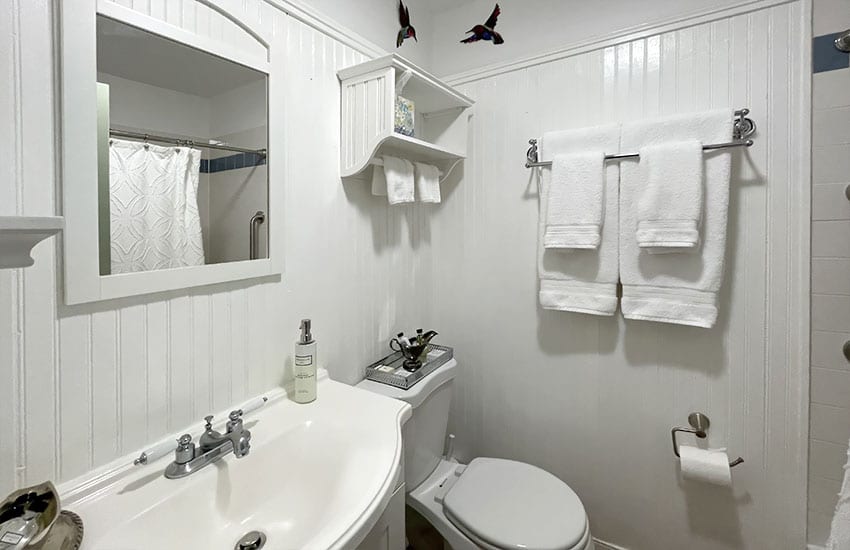 Room Four
Our lovely "Aviary Room" is newly decorated with photography by Shepherdstown Gallery owner and photographer, Diana Cooper. This room is home to two cozy double beds, a sitting area, a combination clothes tree, storage rack and bench, and a unique mirrored window. It is ideally set up for companions on a sight-seeing trip to this marvelous historic area. The attached bathroom has a tub/shower combination and wainscoting, which adds to the comfortable and quaint ambiance of this suite.
Room Five
Of all our guest rooms, this two-windowed, roomy suite gives the greatest impression of having stepped back in time. With a garden decor, it has a lovely, peaceful aura. The comfortable queen bed was originally made in West Virginia. Additionally, there is an vintage armoire, a small writing desk and a comfortable sitting area. The ensuite bathroom, with a tub/shower combination, a custom pipe towel rack, and a large window, has just undergone remodeling.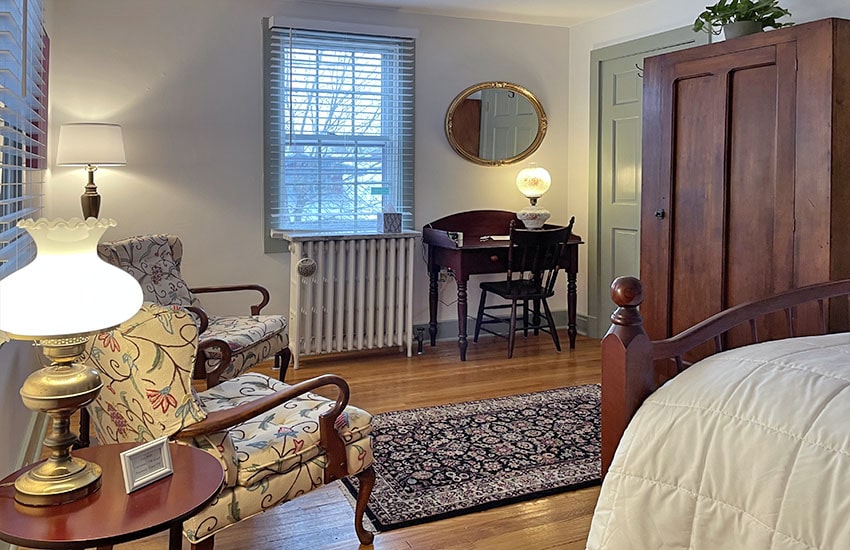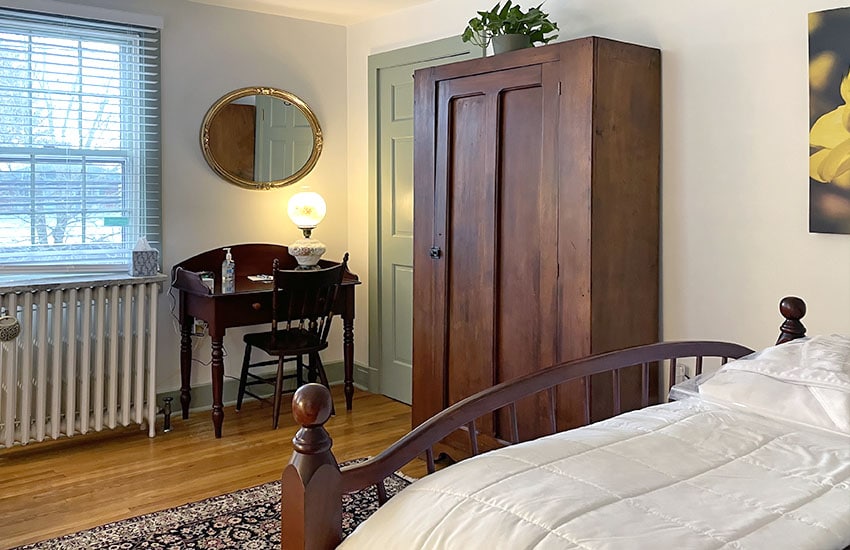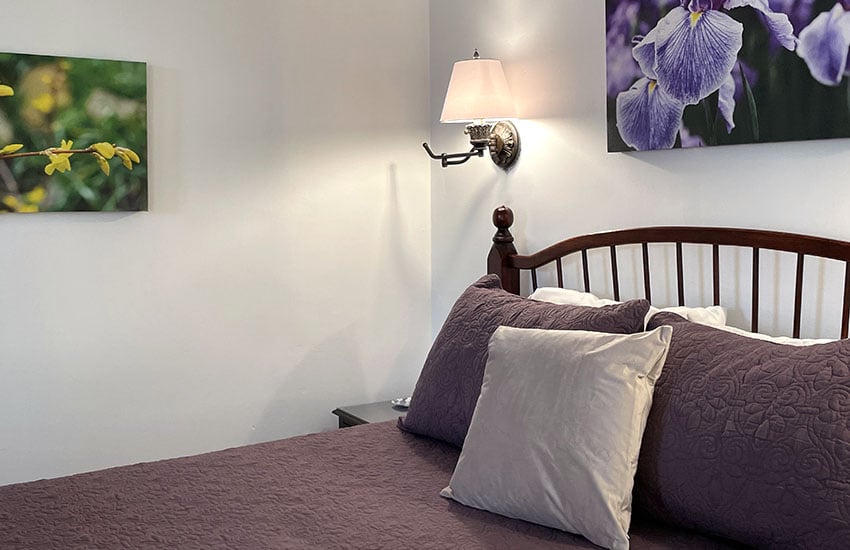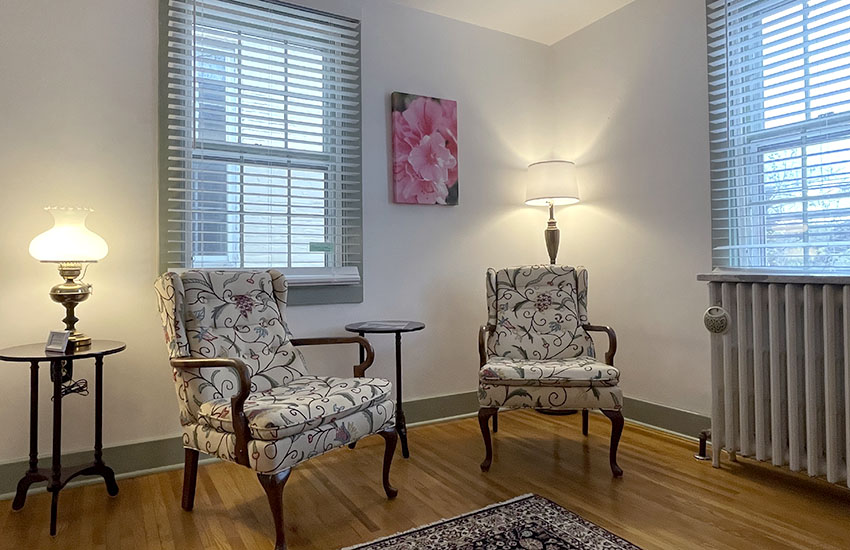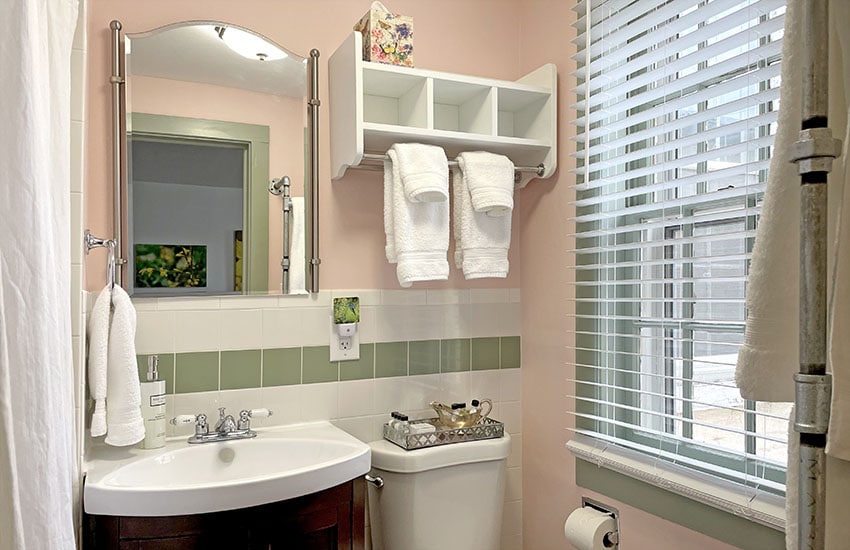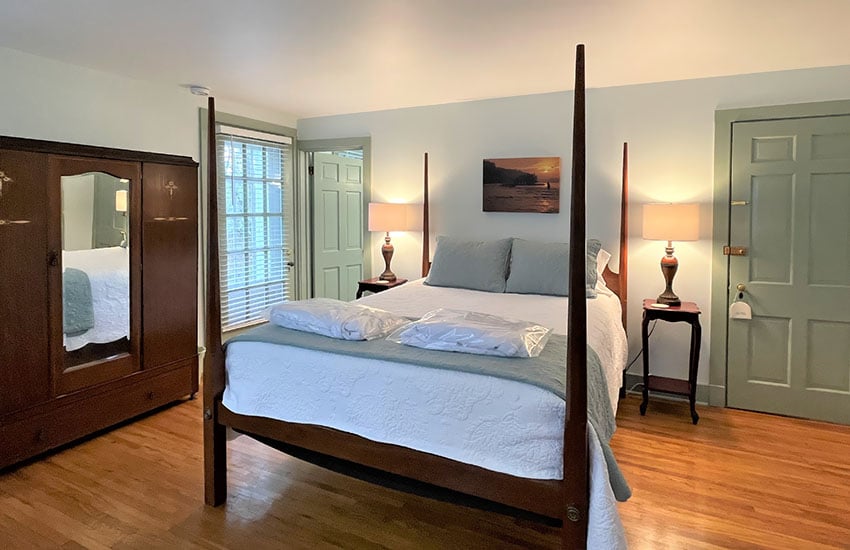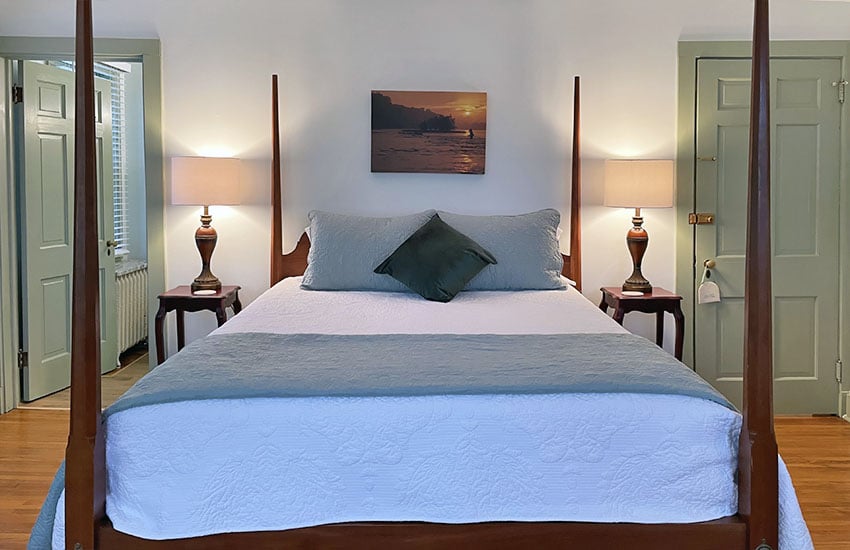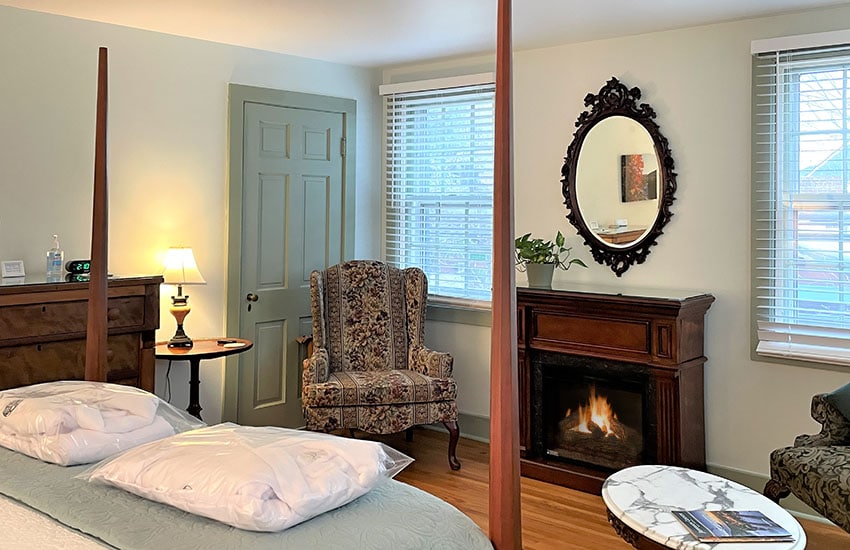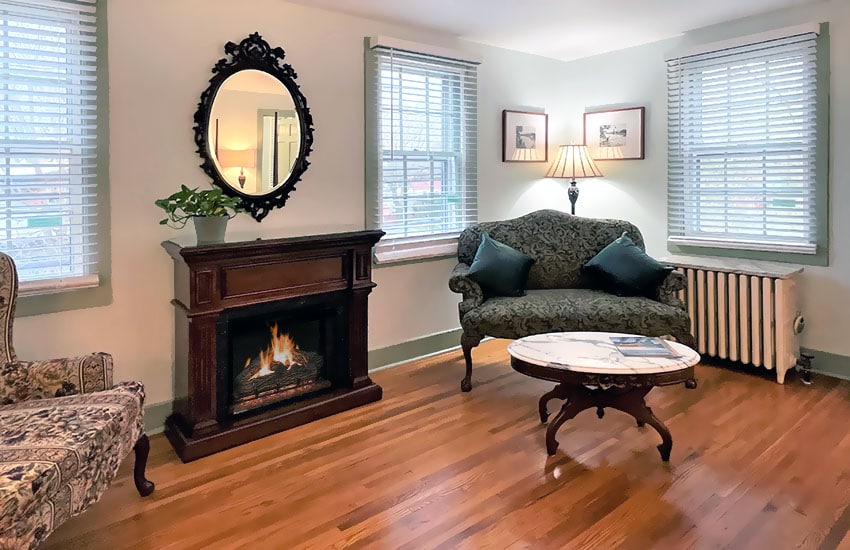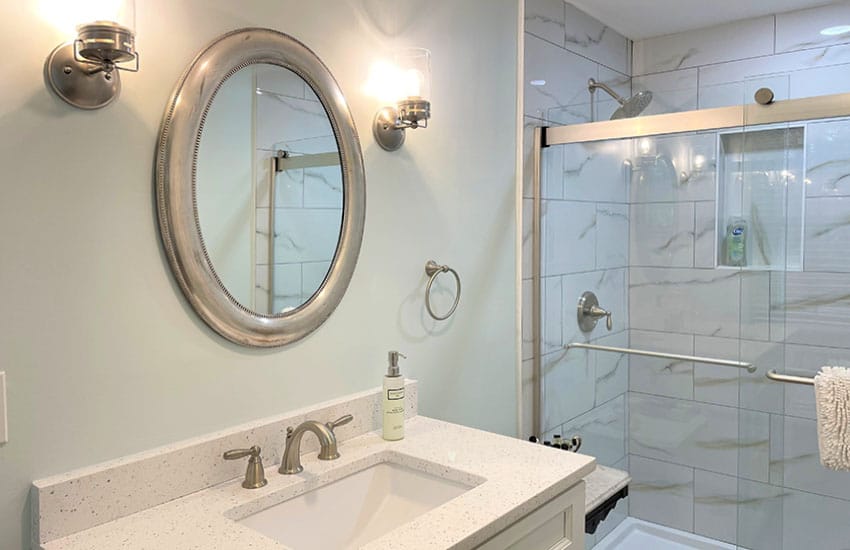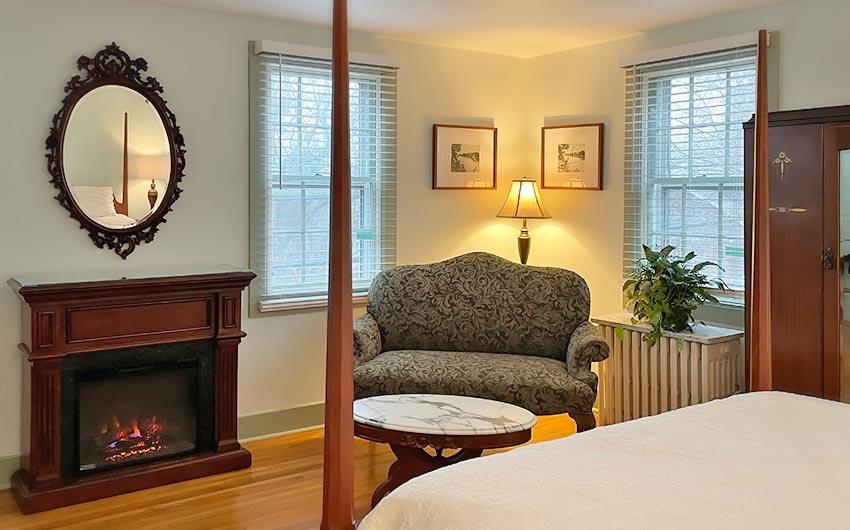 Room Six
Room six is our largest guest suite at the Inn. This four-windowed, corner room has loads of natural light, a queen bed originally made in Shepherdstown, a mirrored armoire, an electric fireplace, and a comfortable sitting area. There is an attached balcony which is not in use currently, plans are to have it in use some time later this year. The ensuite bathroom has just been through the most extensive remodel we have undertaken to date. It now offers a large walk-in glass-doored shower, plenty of new lighting, a larger vanity, new flooring, and all new fixtures. This bathroom also contains a window overlooking the garden.