Enjoy Our Inn Breakfast & Shepherdstown WV Restaurants
We serve breakfast daily in both our large dining parlor and in our lounge. You can choose the setting in which you feel more comfortable. We understand that some folks enjoy meeting and sitting with other guests, and some prefer a more intimate breakfast. We will set out fresh-brewed, locally roasted Black Dog Coffee starting at 7:30 a.m. There is also a Keurig, which we keep ready-to-run all day, so that you can have coffee at any time you desire. The tea buffet is available at all times, as well. Creamers, both dairy and non-dairy, and sugar, sweet 'n low and stevia will always be available. At 9:00 a.m. we will begin to serve our multi-course Sit-Down Breakfast. We welcome you to explore our list of Shepherdstown WV Restaurants that we think you'll enjoy for your other meals.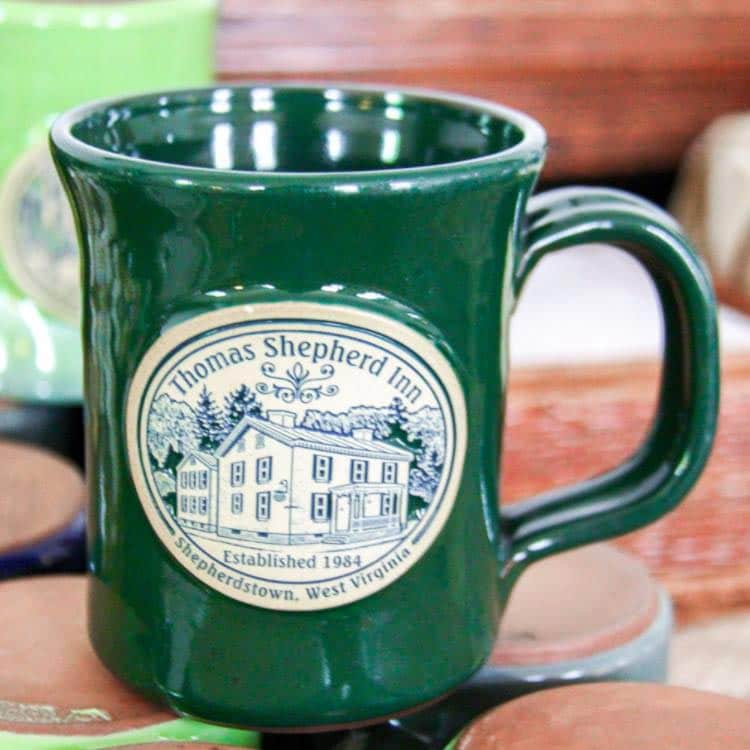 Dining Out at Shepherdstown WV Restaurants
Great food is a unique part of the Shepherdstown experience. We have several Shepherdstown WV Restaurants within walking distance of the Thomas Shepherd Inn. They range from fine dining to fun and casual, and include both American and ethnic cuisines. Almost all are locally owned and many feature seasonal and local foods.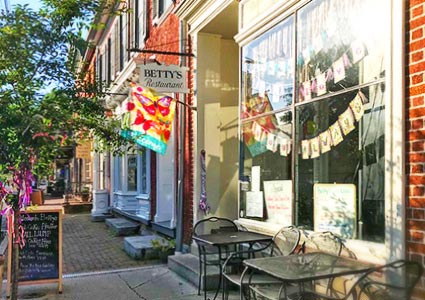 Betty's Restaurant
A Shepherdstown landmark serving breakfast, sandwiches & hot lunch specials. The crab cakes are legendary! 112 East German Street, (304) 876-6080.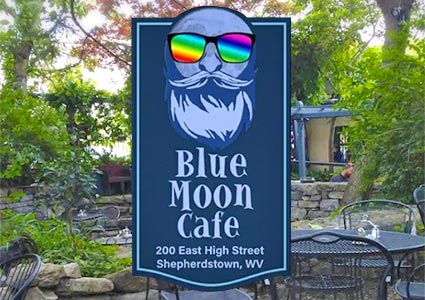 Blue Moon Cafe
The "eclectic" place to eat! Excellent salads and entrees. The best vegetarian selection in town. Optional outdoor seating along "town run". 200 East High Street, (304) 876-1920.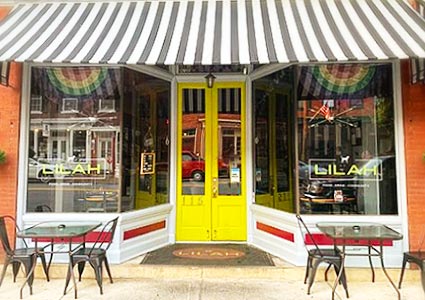 Lilah's Restaurant
Seasonal dishes sourced locally when possible. Wood-fired pizzas, seafood, pasta, prime steaks, gluten-free & vegan options. 115 East German Street, (304) 870-4038.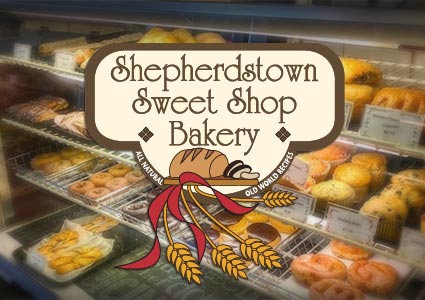 Sweet Shop Bakery
Perfect for breakfast, lunch or an anytime snack, open daily. They offer the most diverse selection of freshly prepared items in the area. 100 West German Street, (304) 876-2432.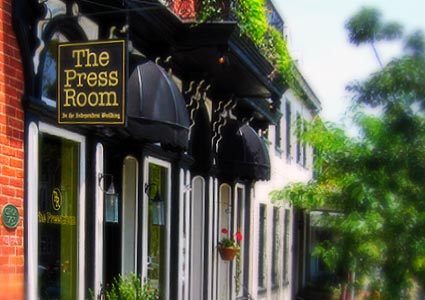 The Press Room
Upscale restaurant offering regional fare that changes seasonally. Grilled seafood, meats, pasta & oysters. 129 West German Street, (304) 876-8777.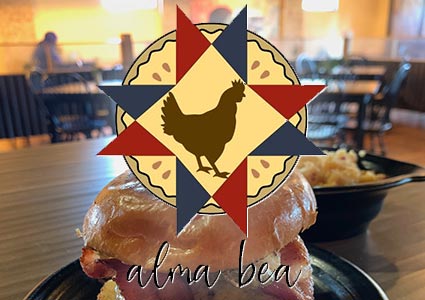 Alma Bea
One of the newest restaurants in town, specializing in down-home fare using Appalachian home foods such as Appalachian ramps, morel mushrooms, fiddleheads, local pork, organic beef, apples and peaches. 202 E. Washington St, (304) 870-2153.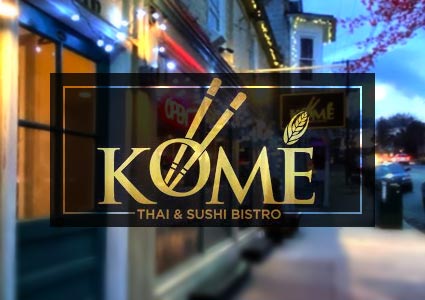 Kome Thai & Sushi
Open for lunch and dinner, serving Japanese and Thai cuisine with a nice selection of wine, beer, and a sushi bar. 120 West German Street, (304) 876-8798.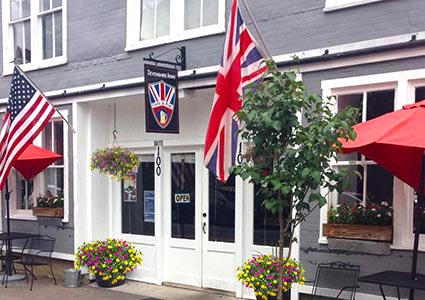 Devonshire Arms Cafe and Pub
English fare & afternoon tea. Soups, chili, sandwiches, full bar. Open 7 days a week. 107 South Princess Street, (304) 876-927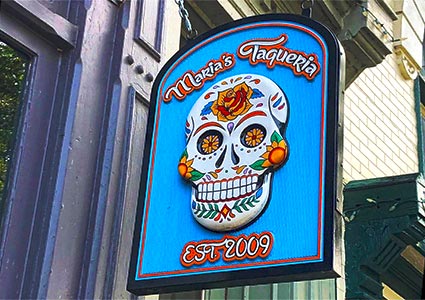 Maria's Taqueria
Featuring tacos, burritos, nachos and taco salad to go or eat in, Maria's provides large portions for a great price. 108 East German Street, (304) 876-3333.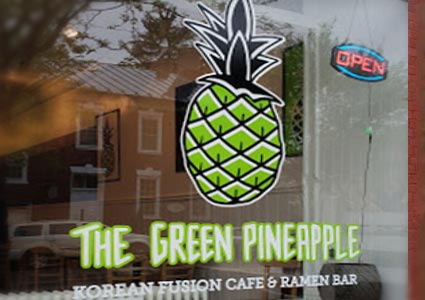 Green Pineapple
A Korean Fusion Cafe & Ramen Bar that also serves Bubble Tea. 140 West German Street, (304) 870-4439.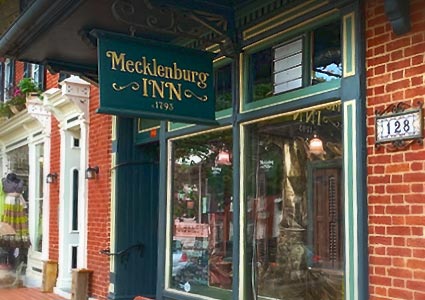 The Mecklenburg Inn
Beer & casual bar bites in an English-style pub with vintage décor, live music & backyard patio. 128 West German Street, (304) 876-2126.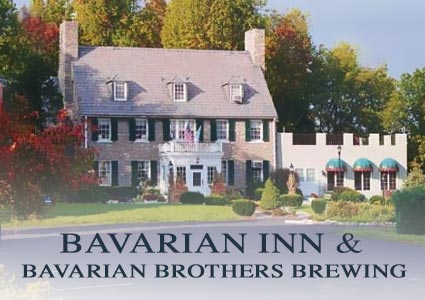 Bavarian Inn
Enjoy this stunning restaurant and brewery situated on a bluff overlooking the Potomac River. 164 Shepherd Grade Road, (304) 876-2551.
For additional Shepherdstown Restaurants visit https://shepherdstown.info/eat/